WHY BUY A LIVEWIRE™ MOTORCYCLE?
H-D REVELATION™ POWERTRAIN
The permanent magnetic electric motor can produce 100 percent of its rated torque instantly—it's the reason for LiveWire's incredible acceleration. It's located below the battery to lower the center of gravity for easier handling.
LIGHTWEIGHT FRAME
The lightweight cast aluminum frame is extremely rigid and contributes to the precise, responsive handling that makes the LiveWire™ motorcycle a thrill to ride.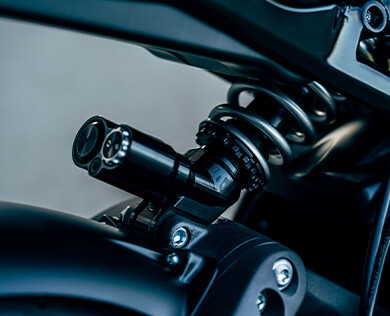 FULLY ADJUSTABLE SUSPENSION
The high-performance SHOWA® front and rear suspension is fully adjustable so you can dial in comfort and handling with precision for your own riding style.
H-D®/ MICHELIN® SCORCHER® SPORT TIRES
The LiveWire™ motorcycle rides on premium 180mm rear and 120mm front-end H-D®/ Michelin® Scorcher® Sport tires. They were designed exclusively to enhance the ride and handling performance of this groundbreaking machine. 
STATE-OF-THE-ART TOUCHSCREEN DISPLAY
A 4.3-inch, full-color, liquid-crystal, touchscreen display on the all new LiveWire™ motorcycle keeps you constantly up-to-date on your speed, range, and battery status. Customize it even more with information like music, turn-by-turn navigation, alert information, and more.
CUSTOMIZE YOUR LIVEWIRE™
We are designing Genuine Motor Parts & Accessories to make your LiveWire™ stand out on the road. You'll be able to customize your bike with accessories like a screen blade, hand brake levers, and more.